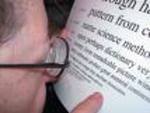 Sorry, rant time again!! It has long been my opinion that candidates fall into two distinct camps, ones that can read and ones that are blind! Let me explain...
You place a well written advert on a web board, targeting a specific candidate both in the title and with the right keyword phrases in the body of the advert. You might even put a phrase such as 'you must have xxxxxx knowledge, you cannot do the role without it' or 'do not even applying if you haven't got xxxxxx skills'. Self explanatory I would imagine! Well evidently there are many blind candidates out there, because they obviously cannot read!!  Why do I say that? Simple answer - because even though they haven't got any of the must have skills they still send in a bloody CV for the role! WHY? They don't have the skills to do the job and they still send a CV??!!
We often use many words to describe these people and the politest I could put here was 'Muppets'. If you are a candidate reading this now, please please please don't send a CV for a job you know you cannot do - it just wastes everybody's time, and it just contributes to our high stress levels and large alcohol intake of an evening (just joking about the stress bit!!)!!