Over the last few months I have written many posts aimed at helping job seekers find a job. The feedback has been fantastic, so in response to many people's suggestions, I have put many of my tips together in one FREE 12 page guide. In this 50 Top Tips for Job Seekers Guide I have covered: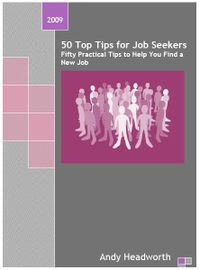 1. Don't Forget the Basics
 2. Start Online with LinkedIn
 3. Then Move onto to Facebook
 4. Now it's Time for Twitter
 5. Some Key Reminders for job seekers
Inside the guide there is also some REALLY EXCITING news about a brand new website coming soon - especially just for job seekers!
Can you afford not to get this FREE guide today?